Composites Perform
Thermoset Composites Enhance Product Performance in Demanding Markets
Increasing performance demands in agriculture, automotive & heavy truck, construction, electrical, energy, HVAC, power generation, rapid transit, and safety & security industries, among others, plus the rising cost of metals and polymer-concrete, is prompting design engineers to use thermoset composite technology as a replacement for existing materials. Thermoset composite materials have many unique properties - exceptional strength, light weight, corrosion resistance, UV resistance, electrical non-conductance, and exceptional thermal properties. These composite material properties make thermosets a good polymer-concrete conversion and, in particular, a good choice for metals conversion, such as from cast steel and aluminum.

For instance, composites can be used outdoors and in extreme environments, as they will not rust or corrode. And, because many components can be molded along with the part, and require no final finishing, thermoset molding compounds are often more economical from a total manufacturing standpoint. With a better strength-to-weight ratio than most metals, thermoset composites are a reliable substitute for traditional materials. They are fast becoming the material of choice for design engineers looking to reduce cost in new high performance applications - because of their exceptional composites properties.

Metals Conversion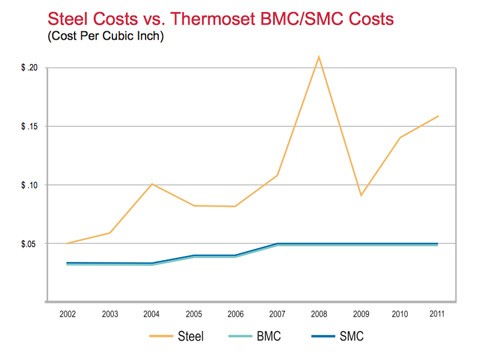 Due to the intrinsic limitations of metals as well as sky rocketing costs, many design engineers utilize thermoset composites as a replacement for metal for high-performance applications. Thermoset composites provide more strength, dimensional control, and corrosion resistance than metals, while increasing design flexibility and manufacturing efficiency. When used for metals conversion, thermoset composites, such as bulk molding compound (BMC), sheet molding compound (SMC) and Structural Thermoset Composites (STC®), offer the following benefits to metals conversion:
Substantial cost savings;
Significant parts consolidation;
Light weight;
UV resistance;
High impact strength;
Superior electrical insulation;
Molded-in color.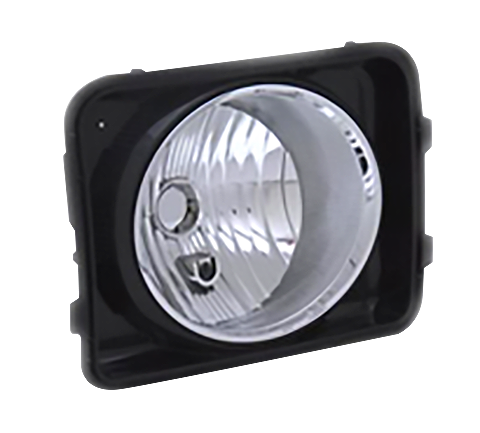 IDI Composites International, the foremost manufacturer of SMC, BMC and STC® materials, is also the global leader in helping companies improve product design, manufacturability, and performance by switching to thermoset molding compounds. IDI has successfully converted many cast aluminum, zinc, iron, steel fabrication, and other custom metal fabrication parts to thermoset composite materials, providing its customers with substantial cost savings and superior performance. Examples of metals conversion with thermoset molding compounds:
Heavy truck under-the-hood components, including valve covers;
Heavy truck body panels;
Automotive headlamps;
Deli meat slicers;
Construction door skins;
Heat shields;
HVAC drip pans.
IDI's Metals Conversion Project Support Team is dedicated to helping molders and OEMs identify new and existing applications that will gain performance advantages and higher manufacturing efficiency from the conversion from traditional metals to high-performance thermoset compounds. Contact one of our Metals Conversion Support Team members.