IDI's Flamevex™ materials offer a range of flame performance levels that can be tailored to an OEMs requirements. From UL 94 V0 and 5VA to the Bonfire testing levels, we work with customers to identify the flame performance level best suited for their application.


Please note: all of our materials are custom developed to meet your specific requirements, if you don't see a product performance metric that meets your needs, call us to discuss your specific project requirements at 317.773.1766 or email us at sales-usa@idicomposites.com.
Series: Flamevex – Flame Resistant Lightweight Composites

Product Description: SMC with enhanced flame performance
Flame-resistant SMC with great mechanical performance designed for the challenges of high-density energy storage and protection in next-generation vehicles.

FV330

FV449
(In Development, Pre-Release Data)

Flexural Strength
Test Method: ISO 178*

261 MPa

335 MPa

Flexural Modulus
Test Method: ISO 178*

12 GPa

13 GPa

Tensile Strength
Test Method: ISO 527*

146 MPa

180 MPa

Tensile Modulus
Test Method: ISO 527*

16 GPa

16 GPa

Impact Strength, Notched Izod
Test Method: ISO 180

115 kJ/m2

134 kJ/m2

Specific Gravity
Test Method: ISO 1183

1.89

1.71

Shrinkage
Test Method: ASTM D955

0.069%

0.035%

Fiber Content
Test Method: ASTM D3171

35%

52%

Flammability
Test Method: UL-2596

≥ 250KPa

--

Flammability
Test Method: UL-94**

5VA | 2.5mm

5VA | 1.5mm

Appearance

Black

Black

Click to download a pdf of the Flamevex Data Sheet

* Data from cut specimens.
** Testing performed by IDI in accordance with UL-94 method.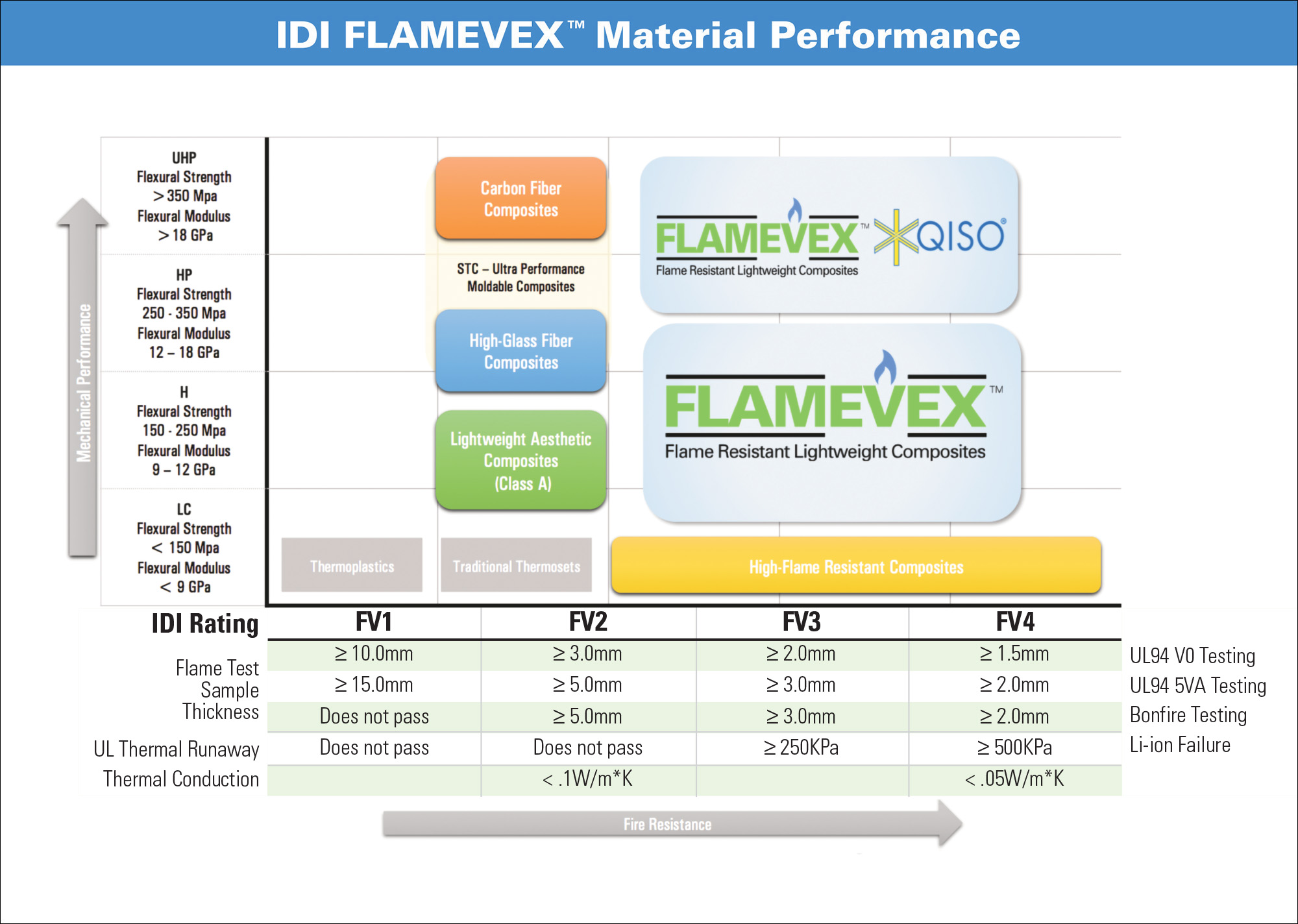 The information on this sheet is a guide. The stated values reflect an average of several tests conducted on Composites International's (CI's) goods. These values were obtained under ideal conditions and may not be replicated in any particular test, part, or application. Because the values achieved in actual parts depend considerably on part design, molding conditions, and testing methods, no guarantee is made or implied regarding values to be obtained in any specific test, part, or application. CI makes no warranty or representation as to the suitability of any of its goods for use in any application. CI relies on customer to conduct its own tests and judge for itself the suitability of CI's goods.