Markets - Automotive & Heavy Truck
Interior and Exterior Auto Parts Require the Dimensional Stability of Thermoset Composites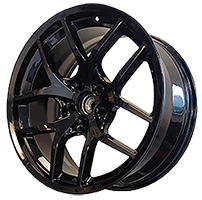 Sheet molding compounds (SMC), bulk molding compounds (BMC), and new lines of high performance composites (Ultrium, Fortium, Flamevex and Alluralite) that are manufactured for the most demanding applications are composites offer dimensional stability and high strength. These thermoset materials are used for a wide range of automotive and truck parts, from headlamp housings to under-the-hood electrical and heat-shielding components to exterior body parts and interior structural and cosmetic components. Some specific applications where automotive composites like SMC and BMC are currently being used include:
Air deflectors and spoilers
Frames for windows/sunroofs
Air-intake manifolds
Front-end grill opening panels
Battery casings and covers
Headlamp housings
Bumpers and bumper beam
Heat shields (engine, transmission)
Cylinder head (e.g. valve, rocker, cam) covers
Pillars (e.g. 'A' and 'C') and coverings
Thermoset composites for the automotive industry offer a low coefficient of thermal expansion (comparable to steel), excellent dimensional stability, high impact strength, relatively low weight, receptiveness to paint, and other important composite properties. Many of these parts are used where a Class A surface finish is required, as composite materials can endure the required paint and bake cycles of the automotive and heavy truck industry.