IDI Composites International - We're About Thermoset Composite Materials And Ideas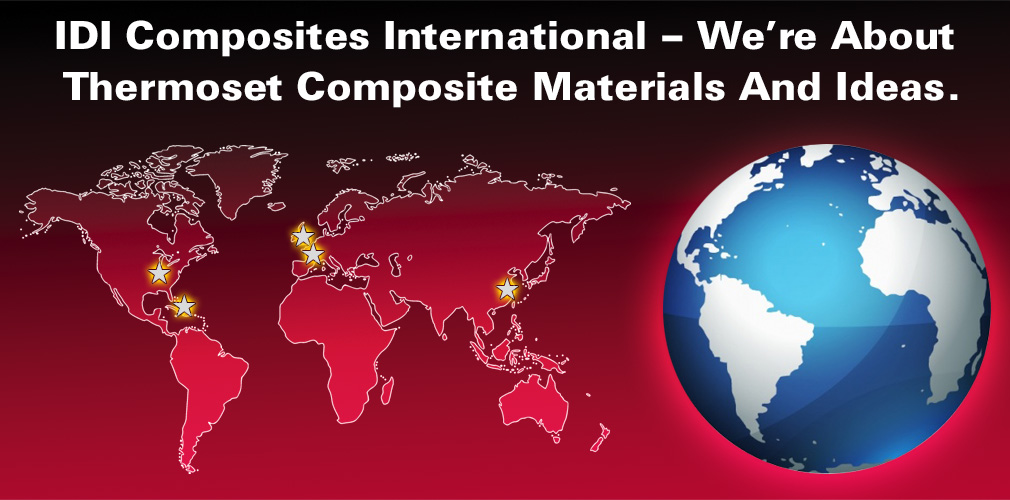 IDI Composites International is known for our outstanding custom formulated composite materials, and for developing ideas that provide meaningful results to your company. It's something we do every day, and we do it worldwide. IDI has a global footprint providing exceptional service and products throughout The Americas, Europe, The United Kingdom, Asia Pacific, the Caribbean and South America.


Corporate Headquarters
IDI Composites International, North America
407 South 7th Street
Noblesville, Indiana 46060 USA
Tel: 317.773.1766
Fax: 317.773.3877
Sales & Business Development:
sales-usa@idicomposites.com

IDI Caribe, Inc.
P.O. Box 400
Road #3, KM 151.8
Aguirre, Puerto Rico 00704
Tel: 787.853.2186
Fax: 787.853.2187
Sales & Business Development:
sales-caribe@idicomposites.com

Industrial Dielectrics (UK), LTD
Unit One, Oldbury Park
Popes Lane
Oldbury, West Midlands
B69 4RG United Kingdom
Tel: 44.121.552.0038
Fax: 44.121.543.5377
E-Mail: sales-uk@idicomposites.com

IDI Composites International Europe (FR) SAS
126 Rue Laennec, Zone Industrielle
CS 97202
41354 Vineuil Cedex, France
Tel: 33 (0)2.54.55.55.54
Fax: 33 (0)2.54.55.55.35
E-Mail: sales-europe@idicomposites.com

IDI Composite Material (Shanghai) Co., Ltd.
Jinbai Road #918
Jinshan Industrial Park,
Jinshan Shanghai 201506 P.R.C.
Tel: +86.21.5727.7688
Fax: +86.21.5727.7689
E-Mail: sales-asia@idicomposites.com
For inquiries outside of these geographic regions, please contact us at the following: sales-global@idicomposites.com.